Creating your own online illustrated parts catalogue is now simple, thanks to Interactive Technical Solutions and innovative software developed by Torchbearer.
We spoke to Stephen Preston and Ian Birchall, the directors at ITS and discuss their latest project and subsequent experiences of it.
"Who are Interactive Technical Solutions?"
Both of us are technical illustrators and have been working in the technical publications industry since the early 80s. We started Interactive Technical Solutions in 2004 to provide Integrated Logistics Support services to businesses that rely on the production of accurate technical manuals.
We specialise in authoring and illustrating manuals for anything mechanical. These are typically user handbooks, parts catalogues, workshop manuals and servicing schedules. If you think of a car manual with those exploded parts diagrams, then you'll know exactly what we do. We focus mainly on bespoke engineering projects producing technical manuals for large tier 1 manufacturers down to SMEs supplying sub systems and components into the prime contractor.
We have in the past covered all manner of equipment for defence, naval, aerospace, heavy specialist engineering, oil and gas, power generation and rail.
"How do you differentiate yourselves?"
There are quite a few competitors, but measurably less than they used to be. That's mainly because there's a lot less manufacturing than there used to be. We see our value in that we tend to help clients that little bit more. You could say we work really for the manufacturers.
We try to assist and solve problems with our clients. So, we actually see more work through helping them further, sorting out spares or detailing what is repairable and when, rather than just writing a single change or update. By giving that little bit more depth, we tend to experience better customer loyalty. Typically, our customers are based in the UK. But their products are working all around the world.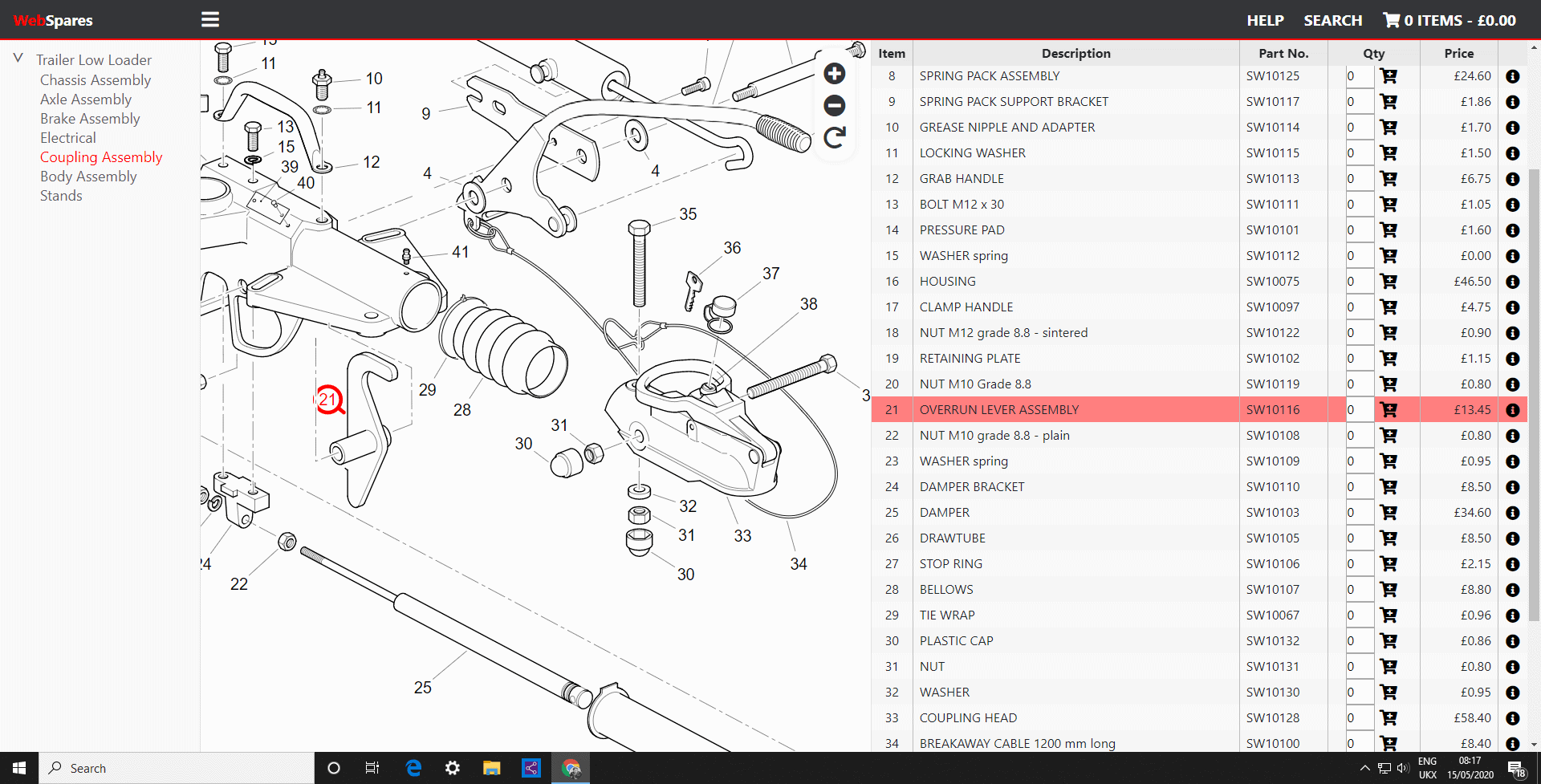 When we took our ideas to Jon & Pete, straight away they not only said 'we can do that', they also come back and actually demonstrated to us how to deliver it.
"Tell us about your web app"
We've essentially developed a cloud-based spares catalogue complete with technical illustrations. Traditionally when you produce an illustrated parts catalogue, something like a wheeled vehicle can involve somewhere between 4000–8000 line items in a single catalogue. Ensuring that the catalogue is 100% accurate from day one is an almost impossible task.
The perennial issue with technical manuals is the Illustrated Parts Catalogue. It ensures the right parts can be ordered. It has to match the current repair philosophy and notify of equipment upgrades mid life improvements and obsolescent replacements. If a component is in the Parts Catalogue it can be ordered. If not, it will remain on the shelf. Missing or erroneous information will lead to equipment downtime whilst the correct part is identified. The parts catalogue is a constantly moving target throughout the equipment's life.
The big issue with this is once you've distributed a set of catalogues (both physical and digital), you then have to keep track of who's got them. For every update, you've got to make sure you have the current contact details of those people who need the updated content.
Our fully Digital solution using the new Web App saves on reprinting everything, physical distribution and cost. All down the supply chain too. It also means that the manufacturers can provide a better service to their clients, delivering more accurate information and changes about their products, faster.
By way of example, one of our customers conducted a time and motion study on their process of responding to a spares enquiry. As their parts catalogues were behind the current equipment build standard (or non existant at all), the sales team were having to spend time with the design office, buyers and parts department to identify the customer requirement in a number of cases.
They found that their internal costs of chasing around for the part, and subsequent returns of incorrectly identified components worked out at approximately £50 per order. Possibly for products that may be worth less than £50. We clearly saw our solution could resolve this challenge, making it faster, less resource intensive and with a far better cost of ownership for them as well.
"Why did you decide that you needed external developers?"
During the prototyping stage, we would invest our spare time in working out the logistics and process of delivering the service. Much of it, sadly spent on solutions that the technology at the time did not support. However, although we did do some of the initial coding for the service, we knew that there was a stage at which our technical skills were at their limits. Specifically, we needed expertise to help us build three core components:
An E-Commerce platform that allows users to interact with technical diagrams and purchase individual components by selecting them directly on the illustration.
An SVG technical diagram visualiser that allows users to interact with constituent components.
A Dynamic solution for searching and filtering of component database.
"How did you select Torchbearer?"
Like many small businesses, we looked round for a web-development team to help us progress further. We needed someone who had the expertise that we lacked but also the vision to realise what we had conceived.
We experienced a couple of hiccups with our first couple of developers. They would come in and do bits and pieces on our platform and say they could do what we wanted. But in truth, they couldn't. They would say 'Yeah, we think we can do that for you' and then they never came back to us.
We discovered Jon and Pete at Torchbearer through a recommendation. When we took our ideas to Jon & Pete, straight away they not only said 'we can do that', they also come back and actually demonstrated to us how to deliver it.
"What's the current state of the app?"
We now have a working minimal viable product (MVP) using a live database and working frontend user interface. We are currently using this to demonstrate our product and concept to our clients. Our current phase is integrating additional frontend elements as well as building in a e-commerce element.
Client feedback has so far been very positive.
"Would you recommend Torchbearer?"
Yes, definitely. The team are a pleasure to work with. They make a big effort to add additional value and are very accessible.
To learn more about ITS, visit their website at webspares.net.